A meaningful purpose with a pure dream
A story of a beautiful thought that became an elegant and unique handmade jewelry.
In the spring of 2018, I and my family visited my mom and my relatives, who live in Lake Sebu, southern Philippines. In addition to spending time with our relatives and friends, we also visited the most popular tourist attraction in Lake Sebu, the Lang Dulay Center (Dream Weaver in South Cotabato), to see the processes and manufacture of the world-unique and organic fabric called T'nalak. The fabric is made of 100% organic raw material of abaca fiber and the natural colors are plant called Loko. It can take 3-4 months to complete a 4-6 meter long fabrics. The Lang Dulay Center is a traditional school (Manlilikha ng Bayan Center) started by the famous and talented T'boli woman Lang Dulay. She has been awarded for her unique and complex weaving technique by the National Living Treasure by the National Commission for Culture and the Arts (NCCA) in July 1998. Today, the younger generations are learning weaving techniques, which maintain and conserve traditional skills.
The unique and complex craftsmanship created by the T'boli weavers in South Cotabato (Lake Sebu) have inspired me to develop my own jewelry design, in combination with these T'nalak fabric. The T'boli weavers usually do not have the opportunities for education, as the school is not free before. Their goal is to preserve the traditional skills and get more buyers of their unique crafts so they can send their children to school.
This is their livelihood and I appreciate their work of art as it is an emblem of our tribe. I know how difficult life is when I myself grew up there. I have always loved helping people who are striving for a better future. I believe in their ability to design a fabric and to create it into my self-designed jewelery, so that I can help and promote their skills as well and that these women will continue to weave their pieces of T'NALAK fabric.
Shineth Trading supports the T'boli weavers who are passionate of their work of art. Collaborating with them will create a unique pieces of jewelry that has a profound origin and meaning. It is our way of life and our symbol. I hope the international market will embrace our creations.
Experience Shineth's exclusive of elegance and selected handmade T'nalak collections. Give it a gift for your loved one's. Every piece you buy will change someone's life.
Wear Shineth's exclusive and handmade jewelry with a purpose!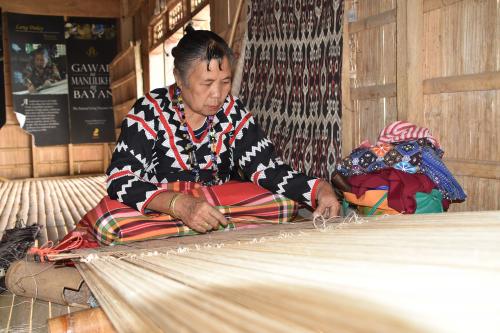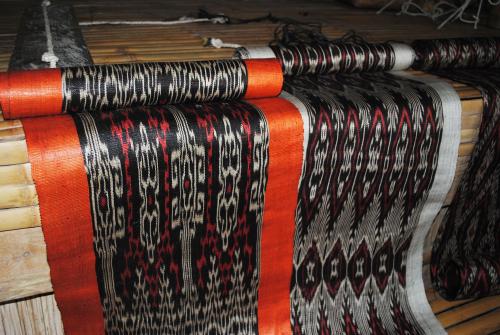 Popular products from T'nalak